More than any of our programs, The Arts Council Signature Series features performing artists in our community who would otherwise not be available to us without traveling to a major metropolitan city. The Arts Council Signature Series stages performers of national and international acclaim. Three performances headline our exceptional 2018 series.
Tickets for The Arts Council Signature Series can be purchased by the performance or for the entire series. Click here to purchase tickets online. If you become a member of The Arts Council as Friends of the Arts™, you will receive two complimentary tickets for the entire series and premium seating. See Membership Levels for list of all membership benefits.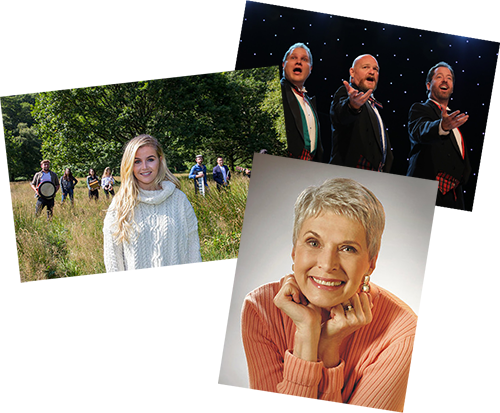 Jeanne Robertson
She's a self-described "grandma gone viral," she writes her own Facebook posts, and on January 6, 2018, she begins her 55th year in speaking and doing theater shows.
Jeanne Robertson is a professional speaker who specializes in hilarious humor based on her life experiences. Other speakers might be as witty as Jeanne. Some might even be as tall (barefooted with her hair "mashed" down, she's 6'2″ in her size 11B stocking feet). But nowhere will you find a speaker so adept at turning personal experiences into funny material that does more than elicit laughter. This Miss Congeniality winner in the Miss America Pageant, "yearrrrrrrrrrrs ago," quoting Jeanne, uses her down-home Southern drawl to leave her audiences laughing and thinking about her message.
Jeanne's success as a humorist has not gone unnoticed by her peers. She has been awarded every top honor in her profession including the top award in professional speaking "The Cavett Award." She is also a member of the Speakers Hall of Fame and recipient of Toastmasters International's Golden Gavel award. They like her back home too. The NC Press Association named Jeanne its 2001 North Carolinian of the Year. Most recently, the National Speakers Association honored Jeanne with its 2012 Master of Influence Award.
Jeanne Robertson is funny, but her deeper message is that a sense of humor is an attitude; an approach toward working with people. She demonstrates how while captivating audiences with her funny, original stories.
---
The Young Irelanders
Each year the Irish Cultural Academy brings together some of its finest exponents of Irish traditional music, song, and dance as part of one sensational group known as The Young Irelanders.  These performers are still in their 20's and are unique among their peers, in that they are all world and Irish national champions in their disciplines.
At 2,700 kilometers, Ireland's Wild Atlantic Way is the longest signed coastal route in the world, stretching along the west coast from Donegal to West Cork.  The Young Irelanders 2018 tour is called Wild Atlantic Way, exemplifying how the traditional music of Ireland is inspired and influenced by this breathtaking coastal region.
Whether it be one of the much-loved vocal numbers like Galway Bay, the foot stomping beat of Kerry polkas, or a stirring air inspired by the Cliffs of Moher, The Young Irelanders deliver a performance that transports you to a part of the world untarnished by modernity and stunning in its beauty. This same setting has provided captivating scenes for many films including The Quiet Man, Harry Potter & The Half Blood Prince, Marley & Me, and Star Wars – The Force Awakens.
Members of the Irish Cultural Academy have performed across six continents and for many heads of state, presidents of Ireland, U.S. presidents, and royalty including Prince Albert of Monaco. Members have also performed in many noted international venues such as Beijing Opera House, Sydney Opera House, Kremlin State Palace in Moscow, the U.S. Capitol Building, The Kennedy Center, and Lincoln Center.
Among the performers in the 2018 The Young Irelanders tour, they have individually received ten Irish national titles.
Performers are:
Aimee Fitzpatrick – Vocals
Ali Levack – Whistle & Pipes
Tomás Ó Dálaigh – Fiddle
Kevin Murphy – Accordion, Piano & Bodhrán
Cillian MacCabe – Guitar, Banjo & Mandolin
Enda Rafferty – Piano, Keyboards & Bass
Joe Duffey – Dancer
Ayla Reid – Dancer
---
3 Redneck Tenors
 Written by opera-veteran Matthew Lord with music arranged by award-winning composer Craig Bohmler, and starring Matthew Lord, Blake Davidson, and Jonathan Fruge, The 3 Redneck Tenors were top 10 finalists on "America's Got Talent" and have been thrilling audiences since 2006.
"You know you're a Redneck Tenor if you can yodel in the middle of La Donna E Mobile from the Verdi opera Rigoletto – and not mess up your mullet or spill a drop of Lone Star."

— Fort Worth Star Telegram
In the wake of the three operatic tenors comes a new breed of tenors from more humble origins…3 Redneck Tenors – a new musical adventure. This musical comedy featuring classically trained veteran artists from Broadway and world opera stages offers down home laughs with big city music. Written by opera-veteran Matthew Lord with music arranged by Craig Bohmler, 3 Redneck Tenors features a cast of veteran opera and Broadway stars including Blake Davidson, Alex Bumpas, Matthew Lord and special guest Dinny McGuire.
Written by MATTHEW LORD
Music Arranged by CRAIG BOHMLER
Starring MATTHEW LORD, BLAKE DAVIDSON, JONATHAN FRUGÉ
and Special Guest DINNY MCGUIRE
Produced by Master Performances Company
Down Home Laughs, Big City Music. Family-Friendly Entertainment
Get ready for a foot stompin', knee slappin' uproariously funny musical redneck romp . . . with the tunes of Elvis to Puccini, Country to Opera (C'opera, if you will), from Paris Texas all the way to their triumphant debut at New York City's famous Carn-iggy Hall.
Creator and writer of 3 Redneck Tenors, Matthew Lord is a native of California.
He is recognized as a versatile performing artist whose stage work is consistently praised for its naturalness, intensity, and commitment.
Mr. Lord also has performed with almost every major opera house in the U.S., and made his New York Metropolitan Opera debut in January 2004 in Boris Godunov, and also performed in Andrew Lloyd Weber's Phantom of the Opera as Piangi in the Hamburg Germany production.   He is a graduate of the prestigious Julliard Opera Center.
Blake Davidson is an award-winning singer who has performed all over the world, and whose range of experience includes opera, symphony, and musical theatre. He has been presented in solo concerts at NYU, Lincoln Center, Carnegie Hall, and the Tokyo Opera House. Mr. Davidson has sung with the Anchorage Opera and the Dallas Opera, and is a featured soloist on the Dallas Symphony's Christmas CD.  Early in his career, he was seen off-Broadway at 2nd Stage, and as the ringmaster for the Shrine circus.
Jonathan Frugé holds a Bachelor of Arts degree in Music Performance and his Masters of Music in Vocal Performance from Texas Tech University. His credits include choral performances and soloist appearances at Carnegie Hall with the New York City Chamber Orchestra, Walt Disney Concert Hall, among many others. Before joining 3 Redneck Tenors, Jonathan was a highly sought-after stage performer having over 20 leading roles to his credit including Col. Hugh Pickering in My Fair Lady, Jinx in Forever Plaid, 3 original premiers and 4 regional tours.